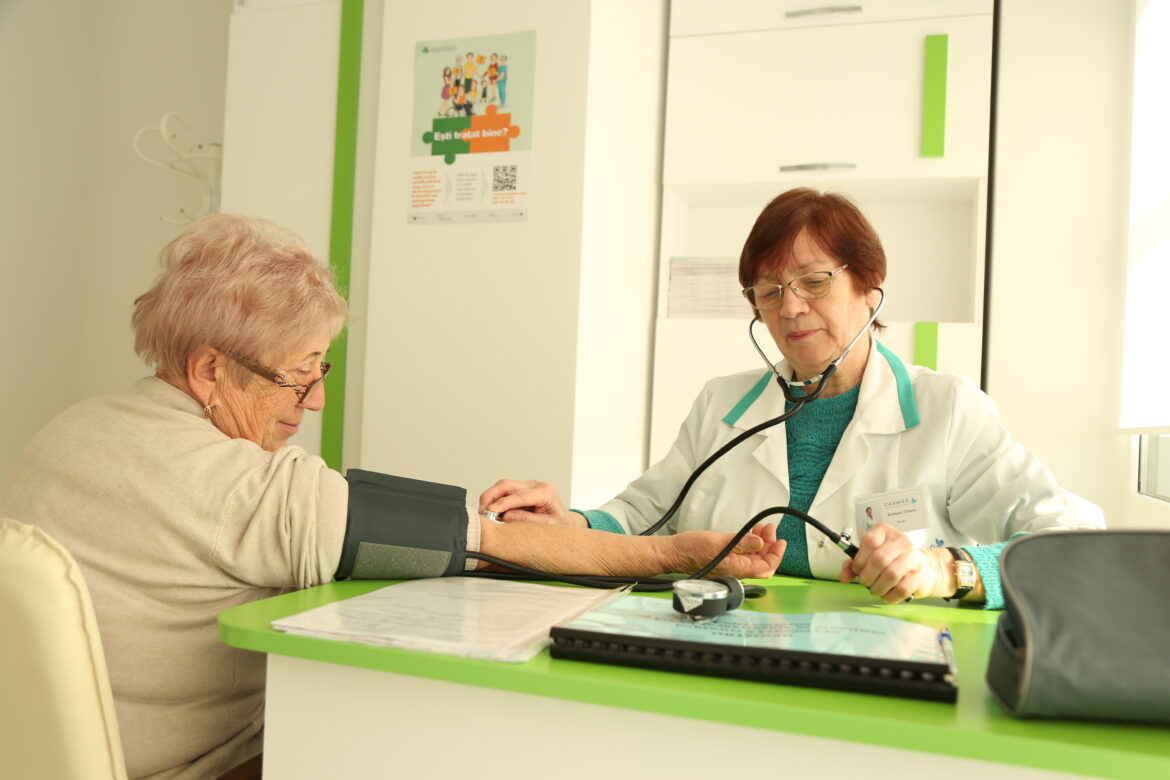 Projects
Rehabilitation center CASMED gives Ukrainian refugees not only medical care, but also warmth and emotional support.
|
02.11.2022
The public association CASMED has been helping socially vulnerable people in Moldova for more than a decade and in June of this year, CASMED has opened a rehabilitation center in Balti, which also provides medical services to Ukrainian refugees. People who were forced by the war to leave their homes, relatives and friends behind, their usual life, have been offered a shelter in Moldova. CASMED organization could not stand aside and, together with donors, organized a center for medical rehabilitation, including for refugees who were left without the supervision of their doctors.  The head nurse and kinetotherapist of the center, Brinza Ala, oversees the work of the staff at the center, and knows absolutely everything about how patients are received, including refugees who need medical attention.
Ala said that during its operation, the center was able to receive about a hundred citizens from Ukraine.  At first, information about such services was disseminated through flyers and business cards, left at different centers, but with the time, word of mouth has done its part and more people became aware of the services CASMED provides.
This is not surprising, since in Balti, and in the northern part of Moldova, the CASMED rehabilitation center is the only one offering such a diverse range of services.
Brinza Ala said that the center focuses on people that need to restore the musculoskeletal system after injuries, after cardiovascular diseases, and postoperative rehabilitation. Consultations and follow-up sessions can be individual or in groups.
The center provides assistance in the following conditions of the patient:
Spine conditions, such as a herniated disc, scoliosis, osteochondrosis.
Neurological conditions such as stroke rehabilitation, headache.
Rehabilitation after a heart attack, with hypertension
Fractures, sprains and articular dislocations.
Joint diseases such as arthrosis.
The center also provides psychological assistance. There are psychotherapists that can help people overcome their depression, stress and anxiety which is extremely relevant for the refugees that are feeling uneasy and far from their home.
Each patient who comes to the center for the first time, has an encounter with a general practitioner – Botezata Tatiana.  A doctor with many years of experience, that is conducting examinations, is listening to the complaints and worries of the patients. The doctor then determines which of the procedures available at the center can suit the person and sends them to the caring hands of the colleagues.
The rehabilitation center has several massage rooms, a kinetotherapy room with exercise equipment, as well as physical therapy rooms where specialists work with the Bioptron lamp and the Darsonval device.
Two nurses work in the center – Anna Dreglia and Lilia Bakhnova.
Anna Dreglia is a massage therapist with 29 years of experience, she believes that giving massages is her vocation. Anna shared with us "I used to help people all my life, both children and adults.  And I am glad that in this difficult time for our neighbors, I can offer help by doing what I like most.  Massages are necessary for almost every person. I have observed with regret that more and more young adults have problems with their backs, joints, and spine.  Massages can help with various diseases, they can relieve pain, and simply cheer up some people.  Sometimes it is hard and demanding physical work, but when my patient is feeling like a new person and says that wings have grown behind his back, I feel like I bring a change, which motivates me to work even harder".
Bahnova Lilia, in addition to giving massages, conducts kinetotherapeutic sessions aimed at the general clinical condition of the patient, and not just the problem the person seeked help for.
Lilia Bakhnova notes that people admit not paying too much attention to their bad habits and health, but once they visit her for a session they become more aware about the importance of taking care of themselves and their health.
Lilia also shared that "Kinetotherapy is a slow exercise, you can't rush here.  Often in the process, my patients begin to understand how much life makes them fuss, but it turns out that sometimes you just need to stop, breath, and listen to your body.  Kinetotherapy sessions bring relief, and people are very grateful, we often form an emotional connection during classes.  Especially now, when I work with refugees from Ukraine, they are more sensitive, vulnerable due to the war in their country, thus, they require more attention and communication to overcome their fears and problems. Many who have already finished my classes still come just to ask how things are going, to talk, and I am very happy about this, creating connections is very valuable to me".
Patients who visited the center themselves offered to start a feedback book, in which they are happy to write words of gratitude to everyone who worked with them and eased their lives.  Some beneficiaries wrote in more detail about how they got to the CASMED center and their experience there.
Nikolai and his wife came to Moldova from a village in the Nikolaev region.
Nikolai has shared "I am already 64 years old and my wife is 60. We never thought that we could find ourselves in such a terrible situation. When the war started we remained at home, even when they started bombing us, we sat in the basement. When the bombs have hit our neighbor's house we helped him rebuild it, but soon after it became very hard to stay, so we decided to look for shelter some other place. I served in Moldova in my youth and I had a friend who was from Moldova himself.  He had a house in the Falesti region, where no one had lived for 3 years.  He proposed that we go there, thus, we quickly packed some things and left. We managed to get to Moldova in March, settle in his house, of course everything was abandoned there. There were not good living conditions, like water, toilet, it was very difficult, even though the neighbors in the village helped and cared a lot, it was still hard to manage at our age. With the advice from our friends, we moved to Balti and settled in the Meridian hostel. There we met some very responsive people, it was hard to believe that we finally had a shower, toilet, and wonderful food. In one of the centers where they offered food and other basic things, we learned about a center where you can get medical help – CASMED, so we decided to give it a try. To say that we were satisfied is to say nothing. To be honest, we did not always receive such attention from our doctors at home. My wife and I are no longer young, we have enough chronic diseases, we both have high blood pressure. We were both prescribed massage courses, after which, I regained control in my arm, which I had trouble with lifting. At CASMED all the workers are very attentive, sympathetic and receptive, they were happy to just measure the blood pressure when I visited them. Here I met with my peers, with whom I found common interests and now we communicate and spend good times together. I sincerely wish only the best to the Moldovan people, who have treated us so sincerely with their open hands. Here, in Moldova, I discovered the work and philosophy of Omar Khayyam and began to understand that we were in too much of a hurry and did not appreciate the things we had, so now, I sincerely wish only wisdom and peace to Moldova and its friendly people".
Anatoly, who is 67 years old, has also shared his story.  He came here from Zaporozhye, but it turned out that he himself was from Moldova, he was born in Ungheni, and when he was still a child, he moved with his parents to Balti. He said "Balti is, in a sense, my native city. I know and remember everything here, since I spent a part of my childhood and youth here. I went to study at the Odessa Military School, and then I ended up living my life in Ukraine. I became a military man, and I served for 27 years – in Kamchatka, and in Siberia, the Arctic, Kazakhstan, Mongolia, and Germany. When the war started, I decided to come to Balti. I am a very energetic person, despite my age, however, I have enough health problems, so I was looking for some assistance, and then I came across an ad, in the refugees group on Viber.  I immediately called, they treated me very attentively, they appointed a time when to come.  When I arrived at CASMED, the doctor listened to everything and prescribed procedures – both physiotherapy and kinetotherapy. I am very grateful to everyone that works here, the staff is very professional and caring. The services provided are at a very high level, I especially appreciated the massage sessions. When I visit CASMED I am always welcomed, and I can feel it. It is very important for me to feel human warmth, besides the doctor's assistance, it helps me overcome the stress and problems I face".
It is worth mentioning that the CASMED rehabilitation center provides new services to refugees from Ukraine free of charge with the support of two donors (Johanniter from Germany and Swiss Red Cross from Switzerland).  Moldovan citizens can also apply here for qualified assistance, which will be provided at affordable prices.