We take care of every customer's health and do everything we can to improve your quality of life.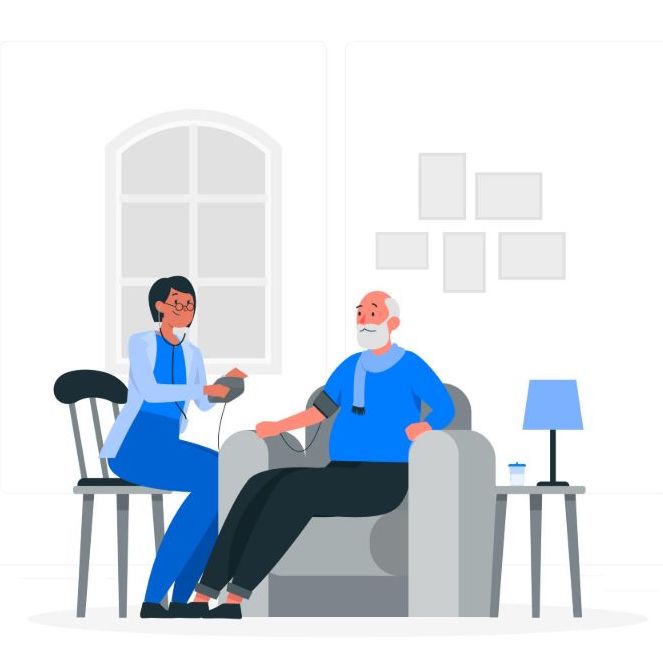 Who is the service addressed to?
The service is designed to support the beneficiaries maintain, as far as possible, their functional autonomy and continue their life in their own home, in dignity and respect.
The service is aimed at the following categories of people: 
persons who have reached the standard retirement age;

 

persons with disabilities;

 

chronic patients who are unable to carry out their daily activities (food, personal hygiene, etc.) due to illness;
insured persons with chronic diseases (consequences of cerebral stroke, post-Covid consequences, terminal illnesses, femoral neck fractures) and/or those who have had major surgeries and show a certain level of dependence and limited ability to visit a medical institution.
What does the Medical Care at Home Service include??
Blood sugar and vital signs check (pulse, blood pressure, temperature, respiration and oxygen saturation)
Administration of medicines
Artificial feeding by gastric tube and educating the patient/caregivers
Passive feeding, including oral administration of medicines, for patients with swallowing disorders
Therapeutic maneuvers to avoid bedsores: mobilization, massage, medicinal applications
Therapeutic maneuvers to avoid pulmonary complications: change of position, patting, respiratory physiotherapy
Movement exercises to maintain mobility according to the Kinaesthetics approach
Prevention and treatment of bedsores, wound, stoma, fistula, drainage tube care
Training the beneficiary in support of self-care
Kinaesthetics is the experimental science concerned with the study of motion competence as a fundamental component of human life. Kinaesthetics is based on the experience and perception of one's own movement. It leads to an increased perception of the qualities and differences of one's own movement within daily activities. Kinaesthetics can come to the aid of people of any age, both professionally and personally. Kinaesthetics is appreciated particularly in professions where body contact is a given, promoting the quality of one's own movement, the quality of care, assistance, or therapy, implicitly one's own and another person's health.
Medical care at home is provided based on recommendation (Form no. 027/e) from family doctors, specialist doctors in outpatient settings, as well as specialist doctors from hospitals. 
Only insured persons can benefit from free medical care at home, within the number of visits contracted annually by the National Medical Insurance Company.
The service is provided in compliance with minimum quality standards and is accredited by the National Health Assessment and Accreditation Council.

How can you access the service? ?
Tell us what you need
Send a simple form to tell us what help you need, either for yourself or a family member, by email: ingrijiri.casmed@gmail.com, or you can contact us by phone at the following numbers: 060957070; 069560259; 0 (231) 2 76 74; or personally visit us at 81 Mircea Cel Bătrân Street, Balti, office 51. We will guide you how to get a referral ticket from the doctor (form no. 027/e). 
We arrange a first visit
We make a visit to your home to assess the situation and find the best solution. You receive information about the services that would best suit the current situation and get to know the medical staff.
We arrange a visit schedule.
Once you have the referral ticket, we together establish a regular schedule of visits, tailored to your needs.