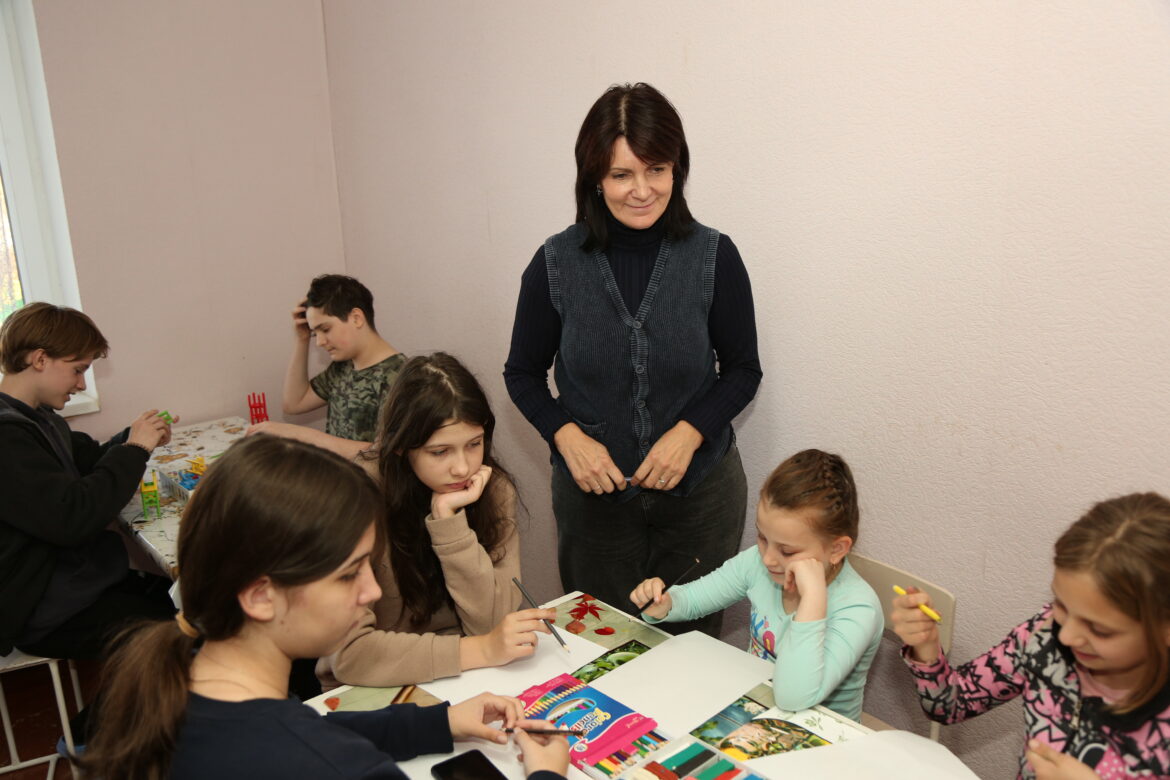 Projects
How group meetings help refugees across the north of Moldova: opinions of psychologists and beneficiaries
|
30.11.2022
A mobile team of specialists from the public association CASMED has been working in the northern region of Moldova since April 2022. More than 1,500 people from Drochia, Falesti, Floresti, Edinet and Briceni districts have already benefited from the psychosocial support provided by the team of psychologists.
CASMED cooperates with social workers in local municipalities and invite people from Ukraine to different group meetings as part of the program "Psychological support for Ukrainian refugees ". This program was developed based on the identified needs of refugees from Ukraine, and its goal is to provide psychological assistance for their integration into new social and cultural conditions.
Natalia and Zhanna are psychologists from the mobile team who have been working since the first day of its creation.
Zhanna spoke about how she works with refugees from Ukraine and how she manages to avoid burnout and help people at the same time:
— We had to learn everything on the spot, this is a new experience for us. Similarly, to our beneficiaries, we have never faced such a situation before. It is very difficult to work with people who were forced to leave their country, their homes and loved ones because of the war. The Ukrainians who came to us were deprived of all the simple things we take for granted every day. Just imagine for a moment that you are away from your home, from everything you loved, from friends, and even from your work. When you understand that everything has changed, you don't even have your favorite cup with you, that made you smile each morning.  And the worst feeling is, that it is not even your choice – you have been forced to leave everything behind because of the war that started in your homeland.
People who find themselves in this terrible situation are very confused, they do not even understand that they really need psychological help. They do not feel safe, they are vulnerable and scared of what can happen in the future. Within our beneficiaries we can see mostly women and children, there are a few men, but most of them are elderly people. All these people are in a desperate need for help. Fortunately, the human mind is very mobile and tuned to self-preservation. I can say that our meetings with the groups are sufficient for most of the beneficiaries to calm down and find strength to think about what to do next and how to build their lives in the current situation.
We hold such meetings separately with adults and with children. Fortunately, that children and adolescents are arranged in such a way that they are more likely to adapt to any situation, even if they are impacted by adults that take care of them. Thus, it is very important that the mother, aunt, grandmother of the child is calm and in a good state of mind. Children are living in the moment , they do not plan for tomorrow – worrying about the future is mostly for the adults, that feel responsible for their lives and their children's.
Group meetings usually hold from 10 to 15 people, which allow increased attention from everyone and help the workers find the needs of the refugees. After such meetings, people may ask for individual consultations if they understand that they cannot cope on their own and need the help of a specialist.
This is not at all simple to work in such a situation: there are a lot of people with whom we communicate, besides the common misfortune they all have, practically everyone has their own problems that have not  disappeared anywhere. I can say with confidence that the return that I had from everyone with whom I had a chance to work is exactly what motivates me to keep pushing and work further,  get into the car again and visit new people. Every time I talk to them, I am listening and try to encourage them to live on, that the war is not the end of the world and there are still things worth appreciating and living for.
I understand that it is hard to accept what is going on right now with the war, that it is not something natural, but at the same time this situation should not be the only thing one focuses on, we have to remember that we have so save our children and loved ones, support them and help them, but in order to do all of these people have to take care of themselves first and their peace of mind.
Natalia has shared about the meetings, what problems psychologists face and how they overcome them:
— Usually we have five meetings with each group of people. At the first meeting, we talk about different kinds of assistance refugees can receive in general, where they can apply to get it, we give contacts of centers that provide assistance depending on their need.
Some people don't come anymore after the first meeting because they only need information regarding possible social support, and they manage everything on their own. However, there are not a lot of people like these. Most come to other meetings from the program and willingly participate in everything that is offered to them. Some meetings are interactive and include games and fun activities, not only with children and adolescents, but also with adults. The situation in which they all found themselves, it would seem, is not conducive to games, but this is a big misunderstanding. In fact, all people need to relax and be distracted in order to somehow reboot and face life the next day, and the next to come. With the help of various questionnaires, games, fun activities, people can get involved, feel that they are not alone in this world, which makes them stronger and more united.
For the meetings, people often come from different villages and towns, they get to know each other, begin to support each other, create groups on Viber to keep in touch. This is very important, since creating connections and sticking together give strength to the refugees and inspire them to not give up.
Social interaction, communication, feeling understood is what our beneficiaries often need most of all. When group meetings come to an end, people always ask : "You won't leave us, will you? When are you visiting us next time? You could just come to talk, and drink some tea.''
It happens seldom that someone meets us with irritation, when they say that they want to be left alone and they do not need any help. But when beneficiaries like these open their souls to us, they speak up their mind, and they begin to trust us – it is one of the most valuable moments in our work. In such situations we really feel appreciated and needed, we feel like wings start to grow from our backs.
Zhanna and Natalia often come to the temporary accommodation center for refugees in Stefanesti in the Floresti region. Here, about 30-35 people can be hosted at once. Currently, 28 people have been accommodated here, mostly women who came with elderly mothers and children. Mostly refugees from the Nikolaev, Kharkov and Odessa regions live here.
Anna came from Nikolaev region. She said that she has ten adopted children and the fourteenth grandson will be born soon. One of her sons-in-law died, he was a military man. She came to Moldova with two daughters and their children from Nikolaev. Despite all the difficulties that she had to endure at an old age, Anna is an incorrigible optimist:
"I, like many others, had to leave everything at home and go somewhere where at least there are no sirens, no explosions. I am grateful for the way Moldovan people met us, I am grateful to this center that is hosting me and my family. This is such an example of humanity, which is very precious.
Natalia and Zhanna have already become like family to us, we ask them to come to us more often if possible, they always come up with something interesting, new ideas, also they managed to unite us.
Only now, at this age, when I have so many grandchildren, I realized that all my life I didn't have enough time for myself, that I don't know myself very well. Natalia and Zhanna were able to show me the real me, it turned out to be so interesting – to study who you are, what you are capable of, what you really want.
I understand that it is necessary to live, that life did not stop when the war has started. I really appreciate the time they spent with me, helping and encouraging me to keep living and flourishing.
Alena came with an elderly mother and a son from Kharkov. She is one of those women who used to work a lot, always relying on herself, but even strong women as Alena, after the war experience, needs help:
– When you hear the sirens you have to go and hide, to be safe, but when you finally leave the subway and you see broken roads, craters, dead people or injured people lying in blood it is impossible to forget, since it is so unnatural for this to happen in the 21st century.
But, despite these horrors, I would never have left my native country Ukraine, if not for my child. I decided to take my mother and son away from the war and I have no regrets. They helped us a lot here in Moldova.
And I am especially grateful to the psychologists from CASMED. I am such a person that relaxes once per year, going on a vacation to the sea. Thus, here I have a lot of free time and thanks to the meetings and classes with Zhanna and Natalia, I was able to pull myself together and find myself again. It's so important when they tell you – it's not your fault that you ended up in this situation and left the house, you took the right decision for thinking about the future and saving your child.
We knew and felt that there would be a war, but, of course, we could not imagine how terrible it would be, and that it would drag on for so long. It is hard to cope with this realization, and we are grateful that there are people like Zhanna and Natasha who come to us and help ease the pain. They encouraged us to believe in our powers, that we will overcome everything, and that we will have a bright future.
Psychologists Natalia and Zhanna say they are sure that the beneficiaries will be able to overcome all the difficulties they are facing right now, they understood how important it is to stay strong and have faith, that better times will come and they have to be ready.
The program "Psychological Support for Refugees from Ukraine" was developed and implemented within the framework of the project "Psychosocial Support for Refugees from Ukraine" with the support of JOHANNITER – UNFALL – HILFE.